There's a converted barn in Northern California with a torture chamber inside. Stay & Play, Monterey's premier kinky B&B — that stands for bondage and breakfast — is not your average inn. In place of turndown service, there are flogging tools. In lieu of a minibar, the rooms come with an assortment of leather masks, whips, and chains — and a bedside basket of safer-sex supplies such as lube, condoms, and nitrile gloves. The decor is unassuming; think shabby-chic-beach-rental-meets-dungeon.

Diva Montaine is a petite, blonde woman with bright, blue eyes. She's the proprietress of Stay & Play, along with her husband, Jimmie. "It is a free-standing, two-level adult playhouse," she explains, "like an adult treehouse." Three years ago, the "adult treehouse" was a barn used primarily for hay storage. Now, the farming tools have been replaced with a menagerie of props for submission and domination.

"I am not a submissive. It doesn't work for me to play that role — it's oil and water," Diva tells me. "In corporate America and in S&M, people equate being a dominant woman with being a bitch. I always thought you could attract more flies with honey."
A weekend night at Stay & Play costs $300, minus $50 if you stay through the weekend. It includes full usage of the S&M facilities and (of course) comes with the sweet touch of a home-cooked breakfast. Couples are the usual guests, but the occasional threesome or larger group isn't unheard of. Guests range from S&M newbies who are curious about the lifestyle to old hands. "We try to make a space that is non-judgmental," explains Diva. "For some, fantasies are met. Others are hard-core experimental players who are tired of tying a rope to the hotel bed; they want a more authentic experience with all the bells and whistles."

And, there are bells and whistles aplenty. The first floor is fully equipped with a traditional S&M dungeon, plus a bedroom suite with down comforters, fluffy pillows, and high-thread-count sheets. The full bathroom has a double-headed shower and claw-foot soaking bath. Just outside the bathroom is an inescapable metal cage, and next to it are some comfy robes and slippers.
Upstairs is where you can rest from all the fun. There is a sitting area, a "smoking porch," a fully equipped kitchen and a fireplace. There's also a hanging, cylindrical cage on a chain, plus floggers, whips, an assortment of paddles (from leather to exotic wood) and other small instruments of teasing and torturing.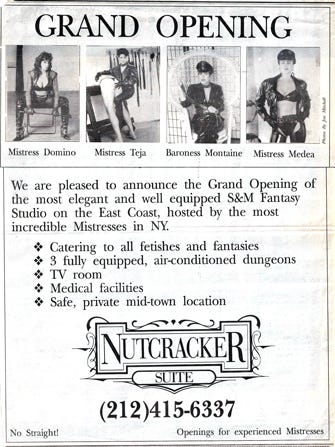 Upon arrival, guests are given a tour that includes a list of safety guidelines. Most are basic: Know your partner's weakness, follow the rules about safer sex. Others are more pragmatic: "Don't close a lock until you've checked that you have the actual key to open that lock," explains Diva. "Never leave someone unattended in bondage. So, you have to plan your scenario — i.e., can you hold your bladder for an hour? Two hours?" There are also specific precautions about what to do in a case of an earthquake; this is Northern California, after all.

A good portion of the inn's equipment comes from Diva Montaine's personal collection from decades of work as a professional dominatrix. She got her first formal introduction to the BDSM scene with the famous Black Rose group in Washington, D.C. "I was open-minded...the first public meeting that I went to [was] a lecture on Rope Bondage 101. It included pressure points, safety, how not to have [your] hands go numb, how to recognize distress. They passed out ropes like it was Girl Scout camp."

For many years after, Diva worked as a dominatrix in Manhattan. Most of her clients were men in high-powered positions who were tired of making decisions and wanted someone else to be in control. "An hour [of being dominated] once a week or once a month — it offers balance," Diva explains.